Recording your food diary: CalorieKing
CalorieKing is an Australian-based company that keeps a current database of the nutritional information of most common foods and ingredients. If you record your intake online through their website, our dietitian can log in to your account to see your records and analyse your food diary without you needing to be present for a consultation.
1. Go to www.calorieking.com.au and click 'Join Now'.
2. Enter your height, weight, gender and age. Click 'Go'.
3. Enter your personal details, and choose a username and password. Click 'Next'.
4. Once your account is set up, begin logging your food intake.
5. Advise the clinic of your Calorie King website username and password. This will allow our Dietitian to access your food records and analyse your nutrition.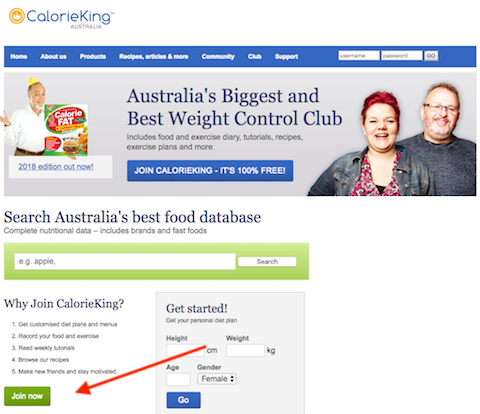 Important note
The app shown above is the correct place to start for a CalorieKing food diary. CalorieKing also produces a mobile phone app, but this stores your information solely on your phone and therefore our dietitian will be unable to access your records. If you choose to use the CalorieKing option, you will need to ensure that you log on to their website each time you need to record your foods and drinks.
Prefer to record your diary manually?
If CalorieKing doesn't seem right for you, you might prefer to record your diary manually. If so, please use our template which can be downloaded here.