We currently offer a variety of group sessions for nutrition and dietetic education, allowing you to explore topics in a discussion environment with other people on the same journey. Sessions run for 60 minutes with 5 to 10 participants.
The cost is kept low, at just $35 per person per session (with the option of booking two back-to-back classes on the same day for $70). All of our sessions are based on the latest evidence-based research and real-world strategies and solutions. They are written and lead by our own accredited practising dietitian, Suzanna Greenwood.
In 2019, we are moving our group sessions off site to the Brisbane Square Library on George St in the CBD. The larger facility will allow for a better, more comfortable service.
The timetable for 2019 is shown below (or download as PDF).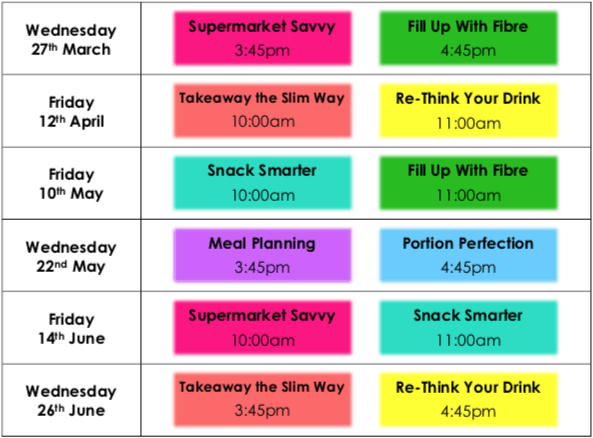 To book, please call our friendly admin team on (07) 3839 1777. Payment is required at time of booking, and refundable up to 48 hours prior to session commencement.
Read more about the content of each session:
---
Meal Planning
Struggling to plan meals? Out of ideas? Concerned you're not getting the right balance of nutrients? Come and learn a new, simple approach to meal planning that will mean more nutrition, more variety, and less calorie counting!
What will I learn?
How to achieve diet variety within your Calorie budget.
How to create balanced meals.
Equivalent food swaps to delay diet fatigue.
How to fit "treat" foods into your meal plan.
Meal planning cheats.
Plus you'll receive FREE meal planning & grocery list templates!
Portion Perfection
Do you feel like you're eating all the right foods, but still struggling to lose weight? Are you even noticing weight begin to creep back on? It could be Portion Distortion affecting your food & Calorie intake! Come and learn how to serve less, eat less and weigh less – all while feeling just as full!
What will I learn?
The psychology of portion distortion.
Sensory Specific Satiety.
Serving Size vs Portion Size.
Perfect portions for each food group.
How to visually guesstimate portions.
Plus you'll receive a FREE portion guide!
Re-Think Your Drink
Do you drink coffee, tea, juice, soft drink, wine, beer, spirits or water? Then this is the session for you! For many of us, changing our beverage habits may the single biggest Calorie reduction we can make – and it may be the difference between gaining or losing weight!
What will I learn?
How to calculate your daily fluid target.
Hidden Calories, sugar and fat in common drinks.
Regular, low carb or light alcohol?
Low- & no-Calorie drinks.
Simple swaps to save Calories.
Takeaway the Slim Way
Will eating takeaway ruin my diet? Are there healthy takeaway options available? Can I go out with friends and still lose weight? Come along to our Takeaway the Slim Way session to find out the answers to these questions and more!
What will I learn?
How to choose meals within my Calorie budget.
Easy takeaway swaps to save Calories.
How to read between the lines of menu descriptions.
Healthy choices at the servo.
Do and Don't when dining out.
Plus you'll receive a Takeaway Wallet Card!
Power Up With Fibre
Are you trying to lose weight, manage diabetes, or lower your cholesterol? Do you want to eat more but weigh less? Fibre could be the answer for you!
What will I learn?
What is fibre, and why do I need it?
How much fibre do I need?
Where is fibre found?
How to compare the fibre content of different products.
How to modify a meal plan to increase its fibre content.
Plus you'll receive a FREE sample bag of some of our favourite high-fibre products!
Supermarket Savvy
Do you ever feel overwhelmed by the variety of products at the supermarket? Are you unsure how to select the healthiest foods? Are you uncertain about understanding all those complicated food labels? If this if you, we can help!
What will I learn?
How to read a nutrition information panel.
How to compare products based on energy, fat, protein, fibre & sodium content.
How to decipher nutrition claims.
Which symbols to trust.
Supermarket shopping tips to help you make healthier choices.
Plus you'll receive a ShopSmart Wallet Card
Snack Smarter
Do you find yourself snacking between meals? Not sure what to snack on, or even if you should snack at all? Is snacking a 'bad habit' you feel you ought to 'quit'? Book in to find out how snacking can be part of a healthy lifestyle!
What will I learn?
Three reasons why snacks are important.
The psychology behind snacking.
The five types of hunger and how to satisfy each.
How to get the most out of your snack.
How to choose a snack to fit your calorie budget.
Snacks containing less than 100 Calories.
Plus you'll receive a FREE sample bag of some of our favourite under-100-Calorie snacks!
Shake Taster
Do meal replacement shakes actually work for weight loss? Which brand is best? How can I get the best results out of a shake diet? Book in for Shake Taster to find out the answers to these questions and many more!
What will I learn?
The best way to use shakes for weight loss.
What to look for when comparing shakes.
How to keep your diet balanced and varied.
Tips for long term success.
Plus you'll get to TASTE TEST some of our favourite meal replacement shakes!
Beat the Christmas Bulge
How does one lose (or maintain) weight in a season of festivity, friends and food? How can I control my nutrition if I'm not catering? Does my weight loss journey mean I can't party? (no, it doesn't!) Book in to find out the answers to these questions and receive down-to-earth, workable strategies that you can pick and choose to make your own Christmas Party Plan.
What will I learn?
Realistic strategies for before, during and after the festive season to help you feel in control.
Where the majority of Christmas Calories hide, and why Christmas seems full of fat for so many people.
How to stay in control of your journey when family and friends all want to feed you.
How to be aware of your nutrition balance so that you can find room to enjoy your favourite Christmas delicacies and drinks.
What modifications you can make to your diet plan to give you some room to party without packing the weight back on.
Tips for navigating the lures of leftovers and Boxing Day snack food sales.